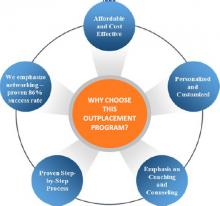 OUTPLACEMENT SERVICES
Stressful economic conditions and changing markets have forced many companies to make difficult decisions involving their workforce. This is never an easy decision, but once made, providing support to your staff greatly assists in facilitating the restructuring .Worker outplacement across the country is a growing need. And yet many firms invest poorly in their effort to help their workers transition.  Why pay for private offices, gourmet coffee and unlimited clerical support when job seekers really need practical advice, coaching and support in order to achieve successful individual outplacement?
At eFlexes, we understand that that you need to balance the needs of your business with those of your transitioning employees – we offer an outplacement service that is individual and personal, which enhances the employees self image, articulates their strengths and helps them manage their challenges.
BENEFITS
Affordable and cost effective.eFlexes outplacement program is priced lower than the large firms. We don't believe in investing in "frills" that don't work (advertising, mass mailings and telemarketing), or that are not necessary (office space, desk, administrative services, computers and phone systems). Ours is a personal, empathetic service focused on the employee.
Personalised and customised.We work one-on-one with employees to make sure their individual outplacement needs are being met and that whatever area (cv, interviews, networking, salary negotiation, etc.) most needs attention gets it.
Emphasis on coaching and counseling.Most large firms that provide services for outplacement in Ireland focus on group work and provide a minimal amount of career counseling. Group work can be a waste of time and not provide valuable job search information compared with this one-on-one, customised approach.
Proven step-by-step process.Our proven process gets the optimum results in the shortest amount of time. Unlike large firms we don't focus on conducting career assessment tests that limit the client's interests, skills and career.
We emphasise Networking – the most effective way of finding a new job.Networking is the most effective way to find a job, with an 86% success rate. Yet, most large firms focus on using a database of job postings which has a success rate of about 5%. Our goal is to multiply your employee's network and let others help find them their next job.